Ok guys have at it!
75 yo female c/c of not feeling well x45 min.
PMx of AMIx4
A/V on demmand pacer
Med compliant, in good shape, well groomed and appears to take care of herself well. Pt husband states they were at the cardiologist today to have her pacer checked and everything was good. Pt states that her sensation of not weeling well woke her up while she was sleeping. Pt is sitting on her porch in no apparent distress, skin is warm slightly pale.
Attendent parter applies Monitor minus 4ld at this time.
BP 138/86
P68-84ish irregular
98% RA
Respirations 16 unlabored.
Pop the 4ld on and WHALA!
Pt heart runs in the 70's for appx 30 seconds then it runs in the 220's for about 30 seconds. And then back to the 70's....and so on. Lead placement verified.
12ld is unremarkable aside from rate.
Im sorry for the poor quality of the 4lds, It was 3am and taken with my phone. I printed a lot of strips but they were left at ER with MD. Note that when she is in a tachy rate the QRS morphology remains constant and unchanged. However, during her periods of normal rates, the QRS has several different shapes, including pacer induced complexes. I really wish i could put the whole call on here as far as the 4ld goes but i cant. What are yall thinking. My shot from the hip says aberrant conduction pathway?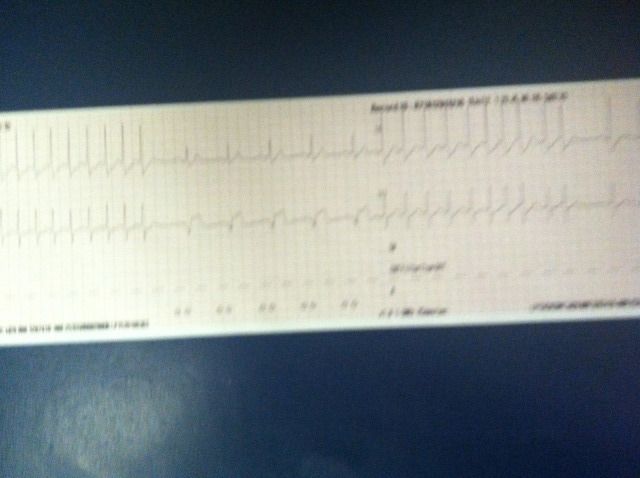 Last edited by a moderator: